Body Warmers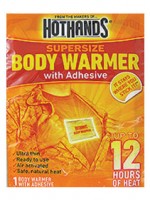 Body Warmers are rectangular shaped single-use air-activated heat packs.
Body Warmers
• Up to 12 hours of heat.
• With adhesive on one side so It stays where you stick it™.
• Ready to use.
• Air activated.
• Safe, natural heat.
• Ultra thin.
• Contains one warmer per package.
Adhesive Body Warmer
– Up to 12 hours of heat
Item: HH1ADH – 40 per box
Item: HH1ADHC – 240 per case (6 boxes)
MSRP $2.50/each